Introduction:
The recent global pandemic caused by the outbreak of the Novel Coronavirus, COVID-19, has inevitably impacted Trinidad and Tobago. Many non-essential services have regulated their hours of operation or closed; and businesses, organisations and government Ministries, have all adjusted their working operations and conditions to ensure the safety of their workforce and all citizen/residents.
These are challenging and uncertain times, and in such circumstances, a major fallout as a result of such limitations is, a reduction in income due to: shorter working hours; pay cuts; slow sales and job loss.
Many find themselves grappling with the question, 'What's next?', particularly as little or no income leads to increased debt; inability to meet necessary payments, and in some cases, to meet basic needs; and increased stress.
Financial Emergencies:
Financial emergencies can be stressful and cause considerable hardships for you and your family. It is for this reason, the TTSEC created the following tips on how to Manage Financial Health in Challenging Times!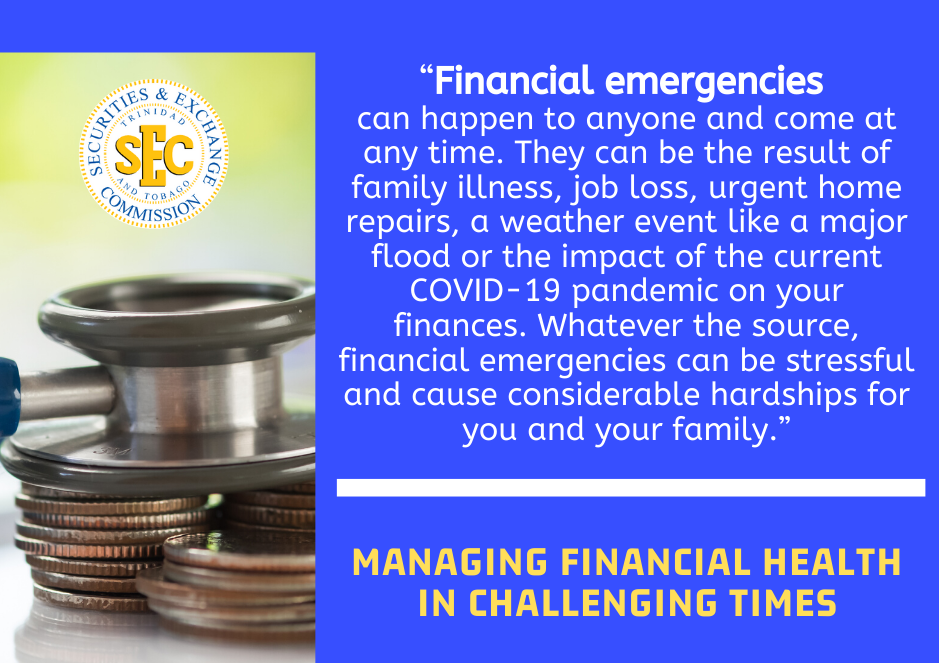 EIGHT (8) TIPS TO HELP YOU MANAGE BETTER:
---
Tip #1
Keep Calm. Think Logically.
You've got this!
If the current pandemic puts you in financial hardship, here are some steps you can take:
During this uncertain period, try to avoid borrowing additional money as much as possible. If you must borrow, make sure you understand the cost of different credit products before you make a decision, and borrow only what you need.
Make sure you compare all borrowing options and their fees, interest rates and repayment terms before choosing a credit product. Otherwise, contracting new expensive credit now could create more financial problems for you in the future.
If you are having trouble making ends meet, seek advice from reputable sources. You can contact a financial professional, such as a licensed Financial or Investment Adviser, to discuss a plan. Visit www.ttsec.org.tt for a list of our registered Investment advisers.
---
Tip #2
Now is a good time to ensure that you are set up to access online services.
What to do if there is limited access to your financial institution?
Your financial institution may regulate its hours or consolidate its operations temporarily, depending on the situation. Online, ATM or telephone banking will become important for making financial transactions. Make sure your login information and passwords, and your bank's phone number are readily at hand.
Not online yet? Here's what you can do.
Learn more about online banking. Call the institution and set up one.
See what you should know about ATMs. Have some emergency cash in the event ATMs are down.
Protect yourself from investment fraud. Visit www.investucatett.com .
It's important that you always protect yourself from fraud when using online banking. Enter your financial institution's website address in your browser yourself and don't click on links in unsolicited emails. Note that financial institutions will never ask you to provide personal, login or account information by text or email.
---
Tip #3
Fraudsters thrive during Challenging Times. Be Aware!
Beware of Fraudsters!
You should always protect yourself from financial fraud, especially during this period of uncertainty. Fraudsters often take advantage of global events and 'breaking news' to lure potential investors with the expectation of significant returns. Fraudsters will prey on consumers' fears and misinformation over the COVID-19 pandemic. You may get phone calls, emails and texts regarding the COVID-19. Be cautious.
Here are a few things to consider in order to protect yourself from financial fraud:
Never click on links or attachments in unsolicited or suspicious emails
Never give out your personal or financial information by email, text or phone.
Note that financial institutions will never ask you to provide personal, login or account information by text or email
When banking online, enter your financial institution's verified website address in your browser yourself
Beware of questionable offers related to new and upcoming investments, if it seems too good to be true, it probably is
If you have concerns about your insurance coverage, contact your insurance company directly
If you need information on COVID-19, refer to official sources only. Or call 877-WELL.
---
Tip #4
Check in daily as we'll share with you tips to help you navigate these challenging financial times.
COVID-19 has presented unique challenges for the securities industry and the financial sector in general; and the long-term implications for jobs and investments are still being analysed.
These are some of the unfortunate circumstances that some of us are already experiencing   as a result of the impact of COVID-19.
Job loss
Reduced income/ due to cutback in working hours
Wage cuts due to slow sales/markets shrinking/temporary closures
---
Tip #5
We'll help you navigate during these Challenging Financial Times with these 3 simple steps. Stay with us to learn how each day, as we take it #step-by-step.
Three (3) Steps to get you started!
Step 1) Conduct a Financial Assessment.
Step 2) Income vs. Expenses
Step 3) Budget – Manage your finances wisely
---
Tip #6
Step 1) Conduct a financial assessment.
Can you maintain your current lifestyle over the next month, two months or perhaps even longer?
What are the impacts on your income, grocery bills, medical; housing, utilities and other necessities that still need to be paid?
What has changed?
Are you able to continue paying off your debts?
Do you have an emergency fund or easy access to cash?
---
Tip #7
Step 2) Budget – How to manage your finances wisely
In these uncertain times there is no telling how long we may need to withstand the impact of this pandemic. Spend wisely, look for ways to cut back and conserve your resources.
Budget wisely – Put you and your family's needs first. Identifying your Needs vs. Wants is key and can help you prioritise your spending.
Continue to stay informed, follow credible sources for daily updates. Consider reinventing the way you live toward becoming more self-sufficient:
Invest in gardening; livestock, poultry or vegetables.
Capitalise on your skills – Invest in your skills – barbering; cooking; carpentry; baking; plumbing; electrical; blogging etc…
Learn a new skill and develop your current skills set
---
Tip #8
Step 3) Income vs. Expenses
Depending on which income bracket you fall in, you may be able to obtain Government aid. Check out the following Ministries/Agencies for further guidance and information:
Ministry of Social Development
Ministry of Labour and Small Enterprise Development
Ministry of Communications
Also liaise with your bank or financial institution to see what provisions can be made for deferred payments, consolidation of debt or reduced interest for loans. Read the fine print and ensure new terms are manageable.
---
COVID-19 Fraud Awareness Videos:
---
TTSEC — helping you navigate these challenging financial times.
You Invest. We Protect. Everyone Benefits.
For more information and regular updates and investor education tips connect with us via any of our social media handles: