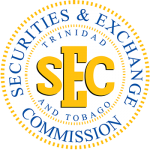 Who are we?
The Trinidad and Tobago Securities and Exchange Commission (the Commission) was established as a body corporate, by virtue of the Securities Industry Act of 1995.  In December 2012, the SIA 1995 was repealed and replaced by the Securities Act (SA 2012). On September 10, 2014 the President of the Republic of Trinidad and Tobago assented to the Securities (Amendment) Act, 2014, Act No. 9 of 2014, which amended the Securities Act, 2012 ("SA 2012"). It is an autonomous agency whose primary roles are the protection of investors and fostering the orderly growth and development of the local capital market. This includes the market for stocks, bonds, mutual funds etc. Our fellow regulator in the financial services sector is the Central Bank of Trinidad and Tobago which regulates the banking and insurance sectors.
For those of you who may be interested in statistics, the value of the securities industry is over TT$200 billion and represents 160 percent of our country's GDP.
How do we protect you?
The Trinidad and Tobago Securities and Exchange Commission is the regulatory body mandated to look after the interests of investors in Trinidad and Tobago.
We protect you by:
Registering all persons who deal in securities. Check the list of registrants on our website www.ttsec.org.tt before engaging in any securities transactions.
Ensuring that all of the information about the security that an investor would need in order to make an informed decision, is disclosed, both to the Commission and to potential investors by the market participant.
Conducting routine market surveillance and investigating complaints against persons who are purporting to conduct any type of securities business whether they are registered with the Commission or not.
Enforcing rules through the use of orders, guidelines and by-laws
Ensuring that registrants are operating in compliance with the legislation and conducting on-site inspections
Conducting a multimedia investor education programme designed to provide investors and potential investors with suitable information to guide informed decisions.