At the end of 2016 the Collective Investment Schemes (CIS) or Mutual Fund market in Trinidad and Tobago collectively managed approximately $48 billion dollars.
A more detailed look at the CIS market for 2016 can be viewed hereà  http://ttsec.org.tt/wp-content/uploads/CIS-Data-as-at-December-31-2016.pdf
But what exactly is a Mutual Fund?
A Mutual Fund is a type of Collective Investment Scheme wherein a company encourages people to pool their money into one fund. In other words, a Collective Investment Scheme is basically a fund that several people contribute towards. It is available to individuals and companies and run by a Fund Manager who invests the pooled money in one or more types of assets, such as, stocks, bonds or property.
Mutual Funds can be categorised by several features such as their ability to:
Issue unlimited units of a fund (open ended fund);
Issue a limited number of units which are then placed on a stock exchange (close ended fund)
Fix the price of the units within the fund (Fixed Net Asset Value funds)
Allow the price of the units within the fund to fluctuate (Floating NAV funds)
Tailor their investment strategies to specific objectives (Fixed Income Funds, Equity Funds, Bond Funds, and Hybrid Funds etc.)
Mutual Funds are usually open ended, that is, there are no restrictions on the number of segments or "units" of the fund that can be issued to investors and, in turn, no limit on the number of investors in the fund. Outstanding units are redeemable on demand at their fair market value.
Open ended Mutual Funds can be long term or short term. Long term Funds can be comprised of common and preferred stocks (equity fund); bonds and other fixed income securities with a maturity of over one year (Bond Fund); or both stocks and bonds (Hybrid Fund). Short Term Funds are usually money market mutual funds which comprise a mix of money market securities with original maturities of less than one year. Money market mutual funds are very liquid and provide a good investment alternative to interest bearing accounts at commercial banks.
Other types of funds include closed ended mutual funds where only a fixed number of units are issued. Investors in a closed ended fund generally buy and sell "units" on the stock exchange, after the initial subscription, as would be done with corporate stocks.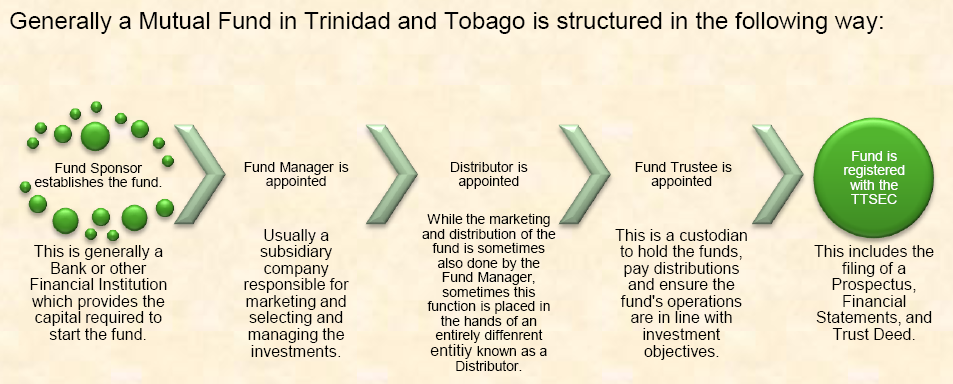 When the fund is registered with the TTSEC (This includes the filing of a Prospectus, Financial Statements, and Trust Deed), the Trinidad and Tobago Securities and Exchange Commission ensures that legal documents affecting the fund's operations are compliant with the relevant legislation, guidelines and soon to be introduced By-Laws. This includes the filing of a prospectus, financial statements, and trust deed.
The Prospectus of a Mutual Fund describes the fund's goals, fees and charges, investment strategies and risks, as well as information on how to buy and sell shares in the Fund.
The Financial Statements show the performance of the fund for the period of the statement and help the investor evaluate whether the fund has achieved its objectives.
 The Trust Deed is a formal agreement between the Trustee and the Sponsor of the Fund which contains information on the powers of the trustee and any restrictions on investments.
 Citizens may wish to invest, but lack the capital to make lucrative investments by developing their own diversified portfolio. Mutual funds allow such citizens the opportunity to invest without the need for large amounts of capital, a feature which in itself makes mutual funds appealing to various classes of investors. However, like any other product, there are advantages and disadvantages to mutual funds.
Mutual funds can offer the advantages of diversification and professional management, but as with other investment options, investing in mutual funds also involves risk. It is important to choose investment products that meet your goals and tolerance for risk at your current life stage. As always ensure you consult a registered investment adviser before making any investment decision or conducting any investment transaction.